These soups are on my family's list of absolute favorites. They are perfect make-ahead meals … and if you have any leftovers, they freeze beautifully, too! xx JN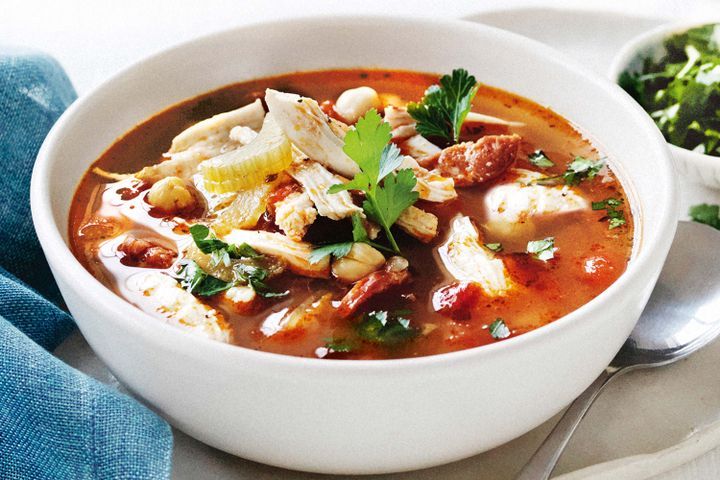 MEXICAN CHICKEN SOUP
adapted slightly from Barefoot Contessa
4 split (2 whole) chicken breasts, bone in, skin on -OR- 1 large rotisserie chicken
Olive oil
Kosher salt and black pepper
2 cups diced yellow onions
1 cup diced celery
2 cups diced carrots
4 cloves garlic, minced
2-1/2 quarts chicken stock or broth
1 (28-ounce) can crushed tomatoes
1 teaspoon ground cumin
1 teaspoon ground coriander
1/4 to 1/2 cup chopped fresh cilantro (optional)

To Serve:
Sliced avocado
Chopped cilantro
Lime wedges
Tortilla chips

INSTRUCTIONS
If cooking chicken breasts: Preheat the oven to 350 degrees. Place the chicken breasts skin side up on a sheet pan. Rub with olive oil, sprinkle with salt and pepper, and roast for 35 to 40 minutes, until done. When the chicken is cool enough to handle, discard the skin and bones, and shred the meat. Cover and set aside.

If using rotisserie chicken: remove white and dark meat from the bone, shred, and set aside.

Meanwhile, heat 3 tablespoons of olive oil in a large pot or Dutch oven. Add the onions, celery, and carrots and cook over medium-low heat for 10 minutes, or until the onion starts to brown. Add the garlic and cook for 30 seconds. Add the chicken stock, tomatoes with their puree, cumin, coriander, 1 tablespoon salt (depending on the saltiness of the chicken stock), 1 teaspoon pepper, and the cilantro, if using. Bring the soup to a boil, then lower the heat and simmer for 25 minutes. Add the shredded chicken and season to taste.
Serve the soup hot topped with sliced avocado, freshly squeezed lime juice, cilantro, and broken tortilla chips.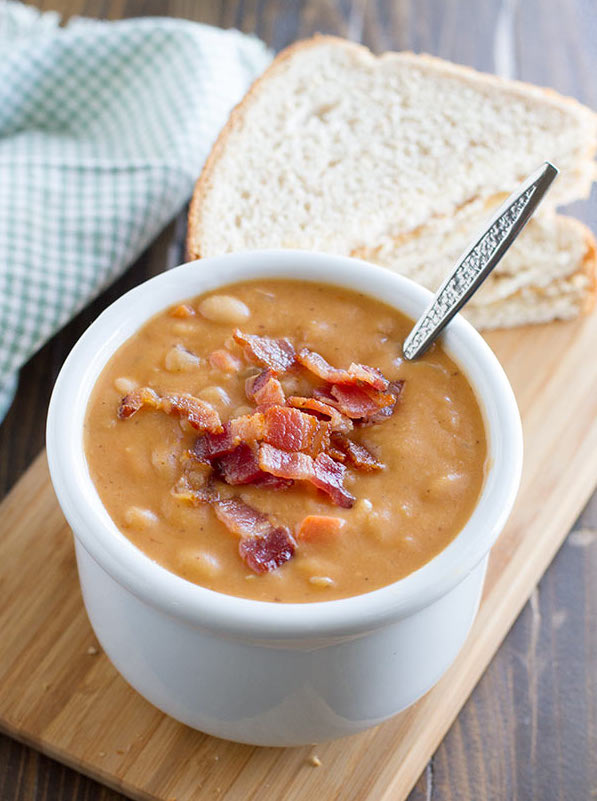 BEAN WITH BACON SOUP
via Taste and Tell Blog

8-12 oz. bacon, diced
1 cup diced yellow onions
1 cup diced carrots
1 cup diced celery
2 cloves garlic, minced
4 cups chicken broth / stock
3 cans (15 oz each) Great Northern beans, drained and rinsed
salt and pepper
1 small can (8 oz) tomato sauce

INSTRUCTIONS
Cook the bacon in a soup pot or Dutch oven until crisp. Remove with a slotted spoon to a paper towel lined plate. Discard all but about 2 tablespoons of the bacon grease.

To the hot bacon grease, add the onions, carrots and celery. Cook over medium heat until softened. Add the garlic and cook an additional minute. Stir in the chicken broth and beans. Season to taste with salt and pepper. Bring to a slow boil then reduce the heat to low and let the soup simmer until veggies and beans are softened.

Remove half of the soup to a blender or food processor. Pulse until super fine dice. Return the puree to the soup pot and stir into the remaining soup. Add the tomato sauce and 3/4 of the reserved bacon and stir to combine. Taste and season to taste with salt and pepper. Let the soup simmer until it is heated through, about 5 minutes.

Serve topped with the remaining bacon.